About Us
Indo Shell Cast Private Limited (ISCPL) is one of the leader in casting with shell moulding process for more than 35 years, supplying castings to many OEMs in domestic and international markets.
The main products of ISCPL are Engine, Transmission and Hydraulic parts to trucks, passenger vehicles, two wheelers, tractors and earth movers in which most of the products are safety critical and require fatigue tests.
We are supplying more than 1.2 million parts per month to about 75 customers. Products are going used at customers like CUMMINS, TOYOTA, DAIMLER, IVECO, SCANIA, CATER PILLAR, GENERAL ELECTRIC, JOHN DEERE, POCLAIN HYDRAULICS, Bajaj Auto Ltd, HONDA, Ashok Leyand -Nissan, TVS Motor etc.
ISCPL is having a production capacity of 1300 tons a month we always maintaining 300 tons spare capacity for surge
All the above said OEMS have audited and approved ISCPL for producing their safety critical parts.
ISCPL has received many credentials from the customers for its commitment to Quality & Delivery and being operated by professionals and technocrats.
ISCPL also takes part in designing the components suitable for foundry processes and helps customer fix the metallurgical quality requirements for their applications. This is done on a customer need basis.
We are not only producing conventional ductile iron and grey iron but also producing and exporting Compacted Graphite Iron (CGI) and trying to educate customers and popularize the benefits of using Austempered Ductile Iron (ADI) in India.
ISCPL is having a state of art machine shop with Turning centres, Vertical Machining centres, Horizontal Machining Centres, Turn-mills from Makino, Mazak, Hyundai, BROTHER and Hurco machines for value additions on castings with ULTRASONIC WASHING SYSTEM
Location :
Located in Coimbatore, the second largest city and industrial town of Tamilnadu, well connected with Train, Air and Roads to all parts of the country. Chennai, Tuticorin and Cochin are the near by sea ports.
Strength
Quality is the strength of Indo Shell Cast. Our Metallurgical quality is very much acclaimed by our customers.
In- house tool room facility with sophisticated software and CNC machines for pattern. In house Tool development is also highly preferred by our customers.
Frist time casting right is ensured with the help of mould flow and solidification Simulation software
State of Art Machine shop producing high accuracy parts gives the customer, a one stop solution for casting development.
Self-generation of moulding sand with thermal reclamation with zero wastage.
IOT enabled machines enables the on-line tracking of process and data generation on key performance indicators.
Customized ERP systems facilitates the monitoring of performances through wide data base.
Foundry is in safe hands of well experienced technocrats ensure the growth of the foundry at all levels.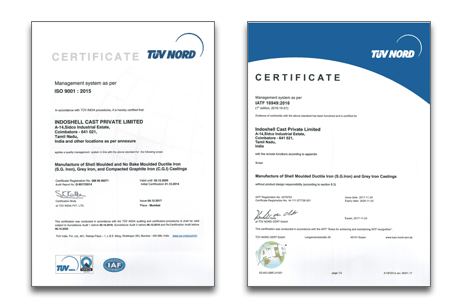 ISO 9001:2015
IATF 16949
ISO 50001:2016
AD Merkblatt 2000, W0 and PED
SQ Mark Certified from Hyundai