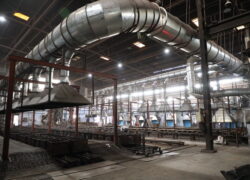 Melting
Medium Frequency Induction Melting furnace with 0.5 ton,1.0 ton,1.5 ton per hour capacity.
An unique Cored wire magnesium treatment for Nodularization.
Equipped with Spectrometers and Thermal Analysis Software.
Moulding lines
IOT enabled High productive Shell moulding machines and core shooter machines. We can produce 12000 moulds/ day.
Also has the capability of producing the castings through Stack moulding and rib moulding techniques.
Semi Automatic Alpha set moulding line to produce parts with the weight range of 5 Kgs and 30 Kgs.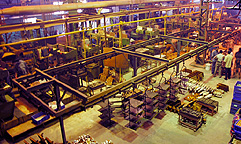 Core Shooters
IOT enabled shell core shooters with vertical and horizontal shootings used for making complex cores for hydraulic valve castings
Tool Room
We have in in house tool room where all the patterns and core boxes are being developed.
Al the patterns and core boxes are developed using CAD CAM route, by using 3D modeling tools such as SOLID WORKS, Master Cam software, and Simulation Software (PROCAST).
Tool room is equipped with 3D scanner for pattern and tool validation and reverse engineering if necessary.
Dedicated Vertical Machining Centers for Pattern manufacturing.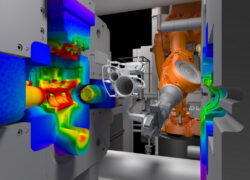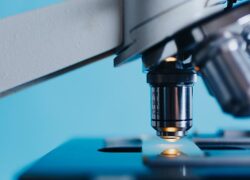 Metallurgy Lab
Spectrometer for chemical composition check.
Image Analyzer software for Microstructure analysis.
Universal Testing Machine, Impact testing machine, optical hardness tester for Mechanical properties check.
Salt spray test equipment to check the quality of painting and plating.
Milli pore test facility to ensure the cleanliness of the casting.
Equipment for radioactivity check for raw materials and castings as well.
Heat Treatment
In- house heat treatment facility for Normalizing, Annealing and Stress Relieving heat treatment in pit and bogie type furnaces. All the furnaces are calibrated and qualified for API -6H and CQI-9 standard requirements. Unique advantage that we possess is the ability to control and monitor all the process parameters of furnace with an IOT based platform.
Fettling
Shot blasting machines Table type, Tum Blast and Hanger type machines are used for surface cleaning and Nozzle shot blasting machines are used to clean the internal ports of the hydraulic castings.
Another unique advantage is the use of Trimming presses and wedge breakers are for de-gating.
Sand Reclamation
State of art thermal reclamation plant with 2 ton per hour capacity. 4 reclamation plants running round the clock and serving the reclaimed sand to the total foundry needs with utmost quality.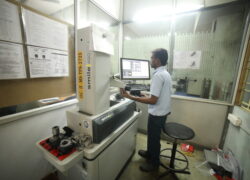 Standards Room
Equipped with Height Master, Co-Ordinate Measuring Machine (CMM), Universal Length Measuring Machine (ULM) to ensure the quality of the product and measuring equipment.
Capabilities and Capacities
Casting weight ranging from 100 grams to 15 Kgs in shell moulding but the size limited to 200mm x 200mm x 200mm
Casting weight ranging from 5 kgs to 30 Kgs in Alpa set moulding with a match plate size of 500mm X 600mm
Grey Iron Grades FG 150, FG 200, FG 250, FG 300, FG 350
Ductile Iron grades 350 /22 ( GGG40.3), 400/15, 420/12, 500/7, 600/3,700/2 , 800/2
Compacted Graphite Iron grades GJV 300, GJV 350, GJV 400
Austempered Ductile Iron grades 850/10 to 600/1
Any customer specific requirement can be considered.